This post may contain affiliate links, which means we may receive a commission if you make a purchase through our links. Please read our full disclosure here.
This post lists 79 deep and light questions to ask your boyfriend.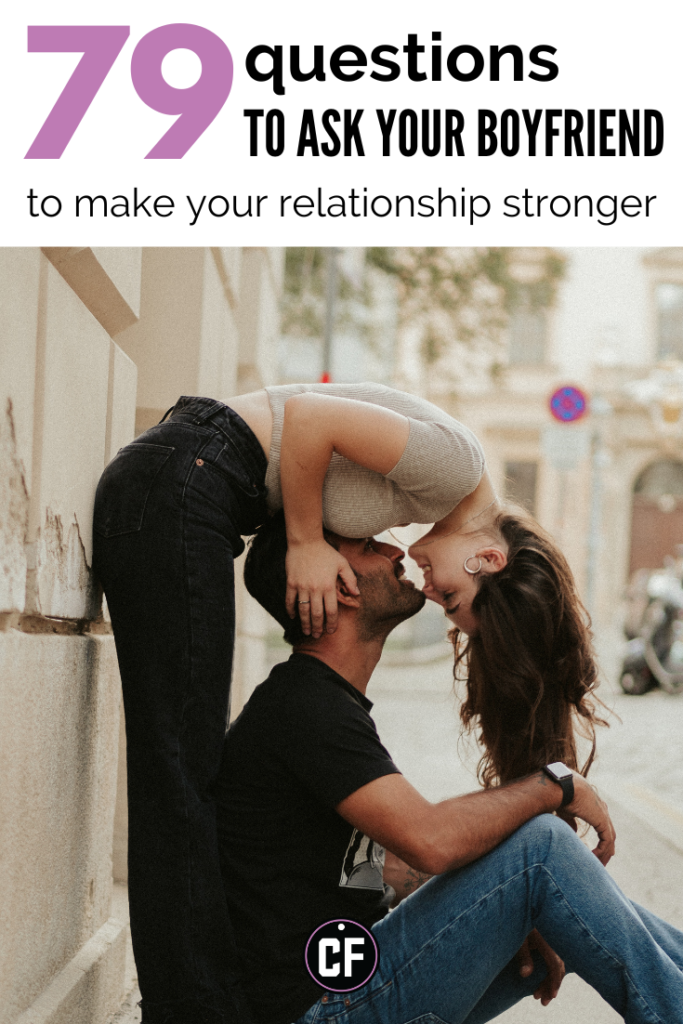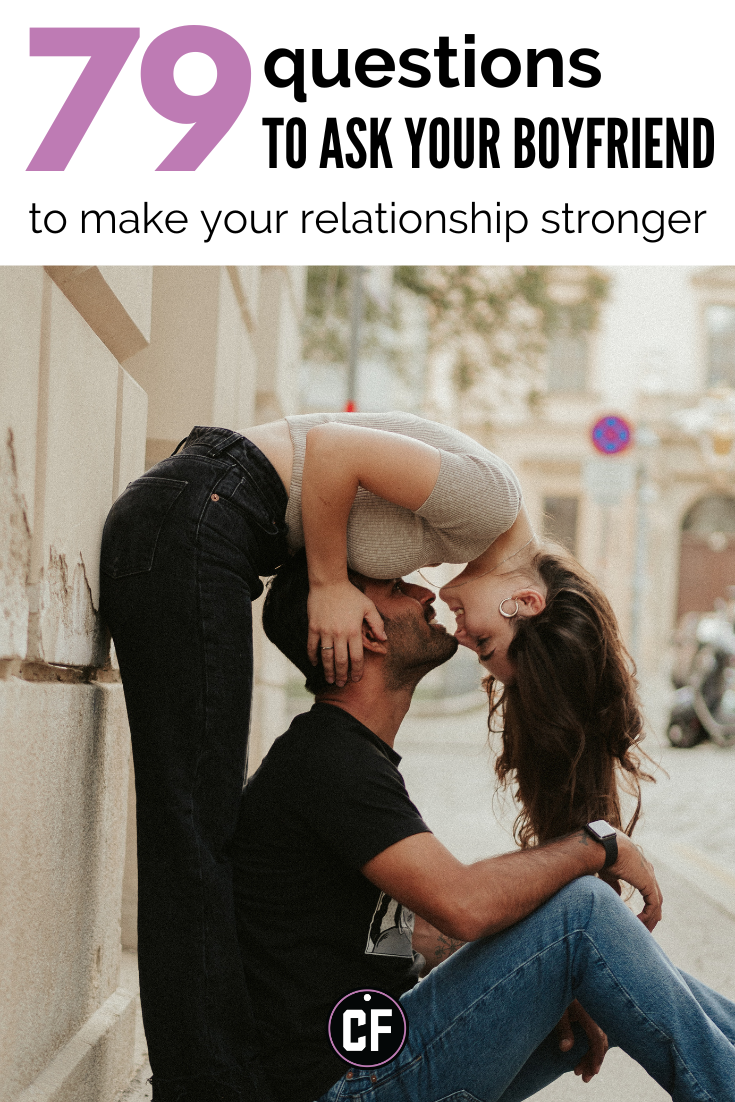 Relationships in college can be complicated, from finding the right person to discovering what you want from a relationship. Asking the right relationship questions can help you determine what is right for you and your future.
Below, I'm sharing 79 questions you can ask your boyfriend to deepen your relationship.
I want to preface this with the fact that I asked my friend each of these questions to prove them before postingAnd it was worth it, so without further ado, let's get into it.
Important questions to ask your friend
Having shared values ​​is critical to a successful relationship, encompassing everything from political beliefs to views on marriage, cohabitation, and general life goals.
Use these thought-provoking questions to better understand your partner's values ​​and perspectives.
Did you live with your ex-girlfriend and how was it?
How do you feel when I express my love to you?
How do you deal with stress?
How do you imagine your old age will look like?
How do you deal with failures?
If you could travel anywhere in the world, where would you go?
How do you see religion and its place in your life?
How often do you suffer from mood swings?
What are the basic qualities you expect from a girl?
What are the obvious signs of fear in a person?
What unique things did your parents teach you growing up?
What are your fears of marriage?
What are your future plans?
What can you not start your day without?
What routine do you like most?
What is your least favorite chore?
What did you do without knowing it that gave you a positive result in the end?
What do people tend to exaggerate or underestimate you?
What do we do to get the most out of our relationship?
What is your first impression of me?
What is your definition of infidelity and how do you deal with it?
What is your favorite marinade style?
What do you think of gay rights?
What do you think of our relationship? How do we do so far?
What offends you the most in a girl?
What are your unique qualities that most people don't have?
Romantic questions to ask your boyfriend
As a hopeless romantic who lives vicariously through Taylor Swift songs, I love asking romantic questions and talking about love. In light of this, I've compiled a list of my favorite questions to ask, from light-hearted inquiries about songs and memorabilia to deeper topics that dig deeper into what makes us who we are.
Of all the questions, my personal favorite is the one about Halloween costumes since my boyfriend and I share the same dream couples costume.
Since everyone has unique love languages, these questions can help you better understand your partner's needs and desires.
Have you ever loved?
Who is the first person you admired and inspired you?
What was the first kiss like?
What is more important in a relationship: an emotional attachment or a physical connection?
Among your friends and family, who do you admire the most in a relationship?
What is the most important quality you look for in a partner?
What's the first thing you noticed about me?
What is the sexiest thing a partner can wear?
Can you describe your perfect night?
What Halloween costume for couples have you always wanted to do?
Are you moving to a new city for your partner?
What is your favorite language? (You can take the test to find out here.)
Do you keep mementos from past relationships? (cards, notes, photos, gifts)
What's the most ridiculous thing you've ever done to impress someone?
Have you ever kissed someone under the mistletoe?
Do you believe in love at first sight?
What is your favorite part of dating?
Do you believe in fate?
What is the biggest sacrifice you made for the relationship?
What is your favorite love song?
Fun questions to ask your friend
Although asking serious questions is essential to building a deep and meaningful relationship with your partner, it's understandable that you want to keep things light and fun during the early stages of a relationship.
If you want to inject some fun into your date night, try asking these hilarious questions that are perfect for keeping the mood upbeat and cheerful.
Should your closet doors open or close when you go to sleep?
Have you ever taken bottles of shampoo or conditioner from a hotel?
What is the worst thing you ate for breakfast?
What's the best prank you've ever played on someone?
Do you prefer Lincoln Logs or Lego?
Do you prefer Nintendo, Xbox, or PlayStation?
What is your favorite video game of all time?
What's the funniest movie you've ever seen?
If you could time travel to any era, where and when would you go?
If you could have dinner with any famous person (dead or alive), who would it be?
What were the silliest things you thought or misunderstood as a child?
Do you sleep with your legs tucked under the blankets or with one foot?
Have you ever stolen anything before?
Would you rather be attacked by a grizzly bear or a hornet's nest?
Have you ever counted your steps while walking?
Do you ever dance even if there is no music playing?
Do you watch cartoons?
If you had to bury the treasure, where would you hide it?
If you were an animal, what animal would you be?
Intimate questions to ask your boyfriend
Although most people think that emotional contact is more important than physical contact, physical touch ranks high in relationships.
Great emotional and sexual chemistry can be key to an excellent relationship. These questions can help you and your boyfriend be on the same page regarding your preferences.
It is essential to find out the other person's thoughts on what might be considered infidelities, such as porn and threesomes, and to make sure that you agree, in terms of values, on these topics.
In an ideal world, how many times a week would you have sex?
What is something you always wanted to try in bed?
Have you ever/have you had a triplet?
How did you lose your virginity?
What is your number one sexual fantasy? Would you do that in real life?
Have you ever entered during sex? Have you ever walked in on someone else?
What's the most outrageous thing you've ever been asked to do in bed? Did you do it?
How do you feel about porn? If you consume it, what kind do you prefer?
What is your preferred gender position?
What is your favorite sex position?
What are your erogenous zones that don't always get attention? (Nipples, ears, neck, etc.)
If we're going to role-play, who do you want me to dress up as?
What exciting words or phrases turn you on?
What is the strangest thing that turns you on?
When is the right time to ask intimate questions to your boyfriend?
In the age of social media culture and the constant "sell sex" mentality, sometimes everything can feel rushed, and nothing can feel sacred. You often come up with these kinds of questions naturally. There is no one-size-fits-all schedule.
Personally, this kind of talk happened on the talking stage for me because my boyfriend and I were close friends first, but for others, it takes longer to get there.
To ask these questions, there must be a prior trust, comfort, and intimacy between you and him. If not, these subjects will feel uncomfortable, out of place, and perhaps even transactional.
There is no right time for these feelings to develop, but when they do, you'll know, and that's when you should start these discussions.
What do you think of our questions to ask your friend?
Would you ask your friend about any of these? Are you planning to? Let us know in the comments below!