A career best bowling performance from Matthew Kohneman and a masterful batting display from Usman Khawaja put Australia in a dominant position at the stumps on the first day of the Indore Test against India.
After India won the toss and elected to bat first, the Australian spinners wreaked havoc at the Holkar Cricket Ground, beating the hosts by 109 in less than three hours. Kuhnemann finished with 5-16, his best figures at first-class level, while veteran off-spinner Nathan Lyon hit three wickets.
In reply, Australia were 4-154 at stumps, with Khawaja peeling off a stout 60 before becoming one of Ravindra Jadeja's four casualties on the afternoon.
Watch Australia's tour of India. Every Test and ODI is live and ad-free while playing on Kayo. New to Kayo? Start your free trial now>
"This score is not up to the standard of the test" | 01:54
"Not Rocket Science": AUSSIES Abandon Sweep Obsession
Finally, Australia's top-ranking nullified the sweep shot.
The visitors were crucified after repeatedly relying on cross bat shots during the Second Test in Delhi, with several players dismissed while trying to sweep and reverse.
Steve Smith was guilty of not being confident in his forward defense against India's world-class spinners, trapping LBW after he missed a sweep by Ravichandran Ashwin.
"I don't think it's been that many times she's walked off the field and gone, 'What the hell am I doing?'" Smith told reporters in Indoor on Tuesday. "
"I was so angry. There haven't been many times in my career where you've really come in and blew me away with what you've done. It wasn't my best moment.
"Definitely something to learn from, I'm still learning too. It just wasn't the way I wanted to play."
But Australia fixed the problem in Indore, where Usman Khawaja and Marnos Labuschagne combined for a game-changing 96-run partnership for the second wicket to put Australia in a leading position on the first day.
The duo's action was outstanding, staying put when India's bowlers fell and skipping wickets when they overs bowled.
Most importantly, Khawaja and Labushagni bowled with a straight bat – they were hit on the outside edge on multiple occasions but never bowled their wicket with a rash batting.
"They played very straight, hardly bowled," former Australian batsman Mark Waugh said on Fox Cricket.
"Good, clever batting… they may have learned some lessons from the first two Test matches."
Former Test wicket-keeper Brad Hadden continued: "They got hit a few times on the outside edge, but they didn't panic. If they get out that way, then so be it. It's going to happen in the Indian subcontinent."
"I've seen them make a conscious effort to play straighter and put a higher price on their wicket."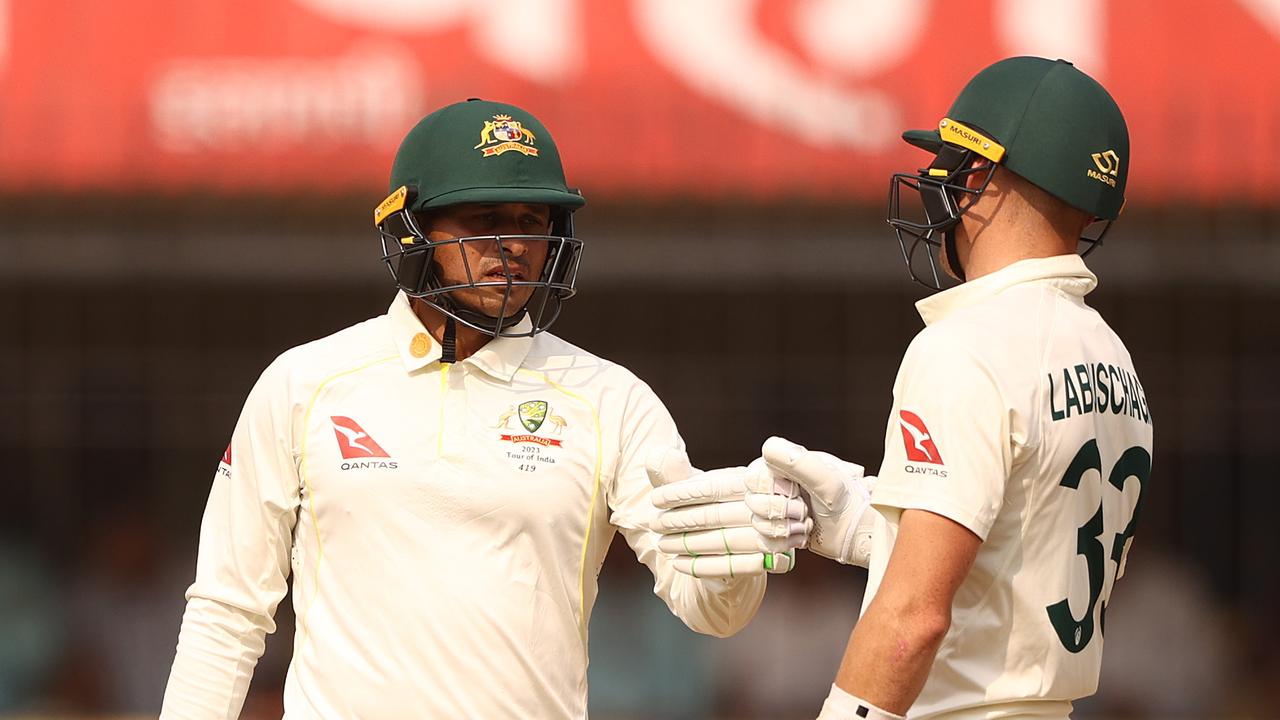 Khawaja didn't completely abandon his cross bat shot – after Wednesday's tea break he made a reverse pass against Jadeja that flew towards the boundary rope.
Queenslander eventually fell victim to a 43rd-minute sweep, caught at deep square leg to give Jadeja his third wicket of the day.
"I played with my plans, tried to score when I saw a chance to score and respected good ball when there was it. It's not rocket science," Khawaja said at the stumps.
"It wasn't easy out there. It was spinning in the morning, it was spinning this afternoon. It felt so hard out there the whole time I was there."
The Australians were aided by sloppy bowling from India's spinners, who had missed their lengths repeatedly during the afternoon session.
While Smith effectively rotated his morning bowlers, Indian captain Rohit Sharma relied more often on Jadeja and Ashwin, rarely switching to the bowlers.
"They were overusing their hands and trying to get too much out of the roof," Hadden said on Fox Cricket.
"They bowled very full. They looked as if they were trying to attack the stumps but just missed their length.
"What we've seen in this session of Indians is a little bit of a panic… They're a little bit frustrated."
Absolutely Awesome: The Next Generation continues to shine
The decision to fly Matthew Kahneman to India last month paid dividends, with the Australian spinner claiming his maiden five-wicket haul in Tests on Wednesday.
Left-arm finished 5-16 from nine overs, his best bowling figures in first-class cricket, to help roll India for 109 on the first day of the Indore Test.
Kuhnemann was undeniably aided by favorable conditions for his bowlers, but poor deliveries were few and far between, clearing both Indian openers before tearing up tailspin after lunch.
"It was absolutely fantastic," former Australian batsman Matthew Hayden said in commentary.
bubble! Kuhnemann has India of all kinds | 01:24
The Queenslander was added to the Australian squad after the First Test in Nagpur, replacing Bulls teammate Mitchell Swepson, who had returned home for the birth of his first child.
Kuhnemann made his Test debut in Delhi, finishing with a score of 2-110 as India secured an unassailable 2-0 lead. Although he didn't play badly at the Arun Gately Stadium, he was the least threatening of the three Australian players in the Indian capital.
Ahead of the Third Test, debate raged over whether Australia should give up Kuhnemann to second choice seam, prospect Scott Boland – but Kuhnemann well and really hit the selector's faith.
George Bailey and the selection committee have garnered their fair share of criticism over the past couple of weeks, but Koneman's surprise addition can only be considered a success. The 26-year-old had played just two Sheffield Shield matches this summer before earning his first Test call-up, overtaking Ashton Agar in the pecking order.
Agar's treatment over the past month has been unfortunate, but Kuhnemann proved his bowling style more effective on India's dry wickets on Wednesday.
Meanwhile, Todd Murphy apparently caught a bunny in Virat Kohli, removing the Indian star three times in four rounds during the series.
The young Victorian cornered Kohli on the pads in the morning session, with the 34-year-old missing a review before returning to the pens for 22.
The out bowling outs usually struggle for a right-handed batsman, but Murphy continues to excel against both styles.
'Dirty story': The demons of DRS in Australia remain
New commander, same DRS problems.
Steve Smith's return to Test captaincy got off to a scary start on Wednesday morning, with the Australian reserve captain missing two opening review opportunities during the match.
Before Mitchell Stark's first delivery of the series, the outside edge of Rohit Sharma's bat, wicket-keeper Alex Carey pleaded for a chance to marshal. The Australians pleaded to be caught behind, but referee Nitin Menon shook his head.
After consulting Curry and his teammates, Smith decided not to ask for a review – but Ultraedge proved that the Indian captain had indeed hit the ball.
Later that same time, Starc swung a delivery past Sharma's inside edge and into his back pads, with Australia's appeal being denied by Menon. Again, Smith chose not to revise, with Hook suggesting the ball would have hit his stump.
Sharma, who scored a century during the series opener in Nagpur, was given two reprieves after less than five minutes into the match,
Smith could take no tricks on Wednesday – when Nathan Lyon hit Indian wicket-keeper Srikar Bharat to the front board in the 17th over, Australia sent the decision upstairs after their appeal was ignored. However, Bharat escaped after showing Hook the ball flying up his leg.
Nothing was going right for Smith but the Australian captain redeemed himself on the 25th when Lyon again received a charge to go over Barratt's inner edge. Menon denied the LBW shouts, but the decision was overturned after Smith called for a review.
Indian captain Rohit Sharma was even worse with his reviews during Australia's innings, squandering all three of them before stumps on the first day with seven wickets still to be taken.
Jadeja BURNS Reviews After Horror Error | 03:07
Former Test captain Tim Paine struggled badly with DRS, while Pat Cummins came under fire for recklessly wasting reviews during the Second Test in Delhi. The Australian Test side later became synonymous with DRS errors.
"Not enough ratings and Australian cricket is an abominable story, isn't it?" Indian commentator Harsha Bhogle said last month.
"It goes back to the ashes, it goes back to Tim Paine."
Australian cricket icon Alan Border suggested that the reviews should be taken out of the captain's hands, with wicket-keeper Alex Carey given the responsibility instead.
"You have to take the sentiment as best you can," Border said on Fox Cricket.
"The goalkeeper has to have a really strong point of view about this, otherwise you're going to get a lot of these (reviews) wrong."
Goats shatter another warning record
It's official — Nathan Lyon is the king of Asia.
On Wednesday, the veteran bowler overtook Shane Warne's record for most Test runs by a visiting bowler in Asia, finishing the Indore first innings with 3-35 from 11.2.
Lyon thrived on the turn wickets, removing Chiteshwar Pujara in his first over for 1 with a low, sharply spun shadow delivery that hit his stumps.
Later in the morning session, the 35-year-old dismissed Ravindra Jadeja (caught for 4) and Srikar Bharat (LBW for 17) as India collapsed to 7-82 on Wednesday.
Lyon took 129 Test runs at 31.77 in Asia, surpassing Warne's 127 scalps at 26.81. No other visiting player has taken more than 100 Test wickets in the Indian subcontinent.
Most Test wicket to visit bowling in Asia
129- Nathan Lyon (Australia)
127 Shane Warne (Australia)
98- Daniel Vettori (New Zealand)
92- Dale Stein (South Africa)
82. James Anderson (England)
The New South Welshman looks set to pass 500 Test wicket within the next 12 months, and he will become only the eighth cricketer to reach the milestone.
Lyon also caught a rabbit at Pujara, dismissing the Indian batter 12 times in Test form. The only other cricketer to have removed Pujara more than 10 times in Test cricket is the England veteran James Anderson.
Most of the time Nathan Lyon turned it down in auditions
12 – Chiteshwar Pujara
10- Ajinkia Rahan
9- Stuart Broad, Ben Stokes, Moeen Ali
'SATISFACTION': JADEJA'S 'Criminal' Fault
Spinners have no excuse for bowling no-balls in Test cricket, but Ravindra Jadeja quickly turns into a repeat offender.
Marnus Labuschagne should have returned to the barns after making a short delivery to his stumps in the fourth over – if not for Jadeja's costly foot error.
The Australian No. 3, who was zero at the time, was called to center after replays showed Jadeja had been marginally over. The tourists should have been 2-14, but instead Labuschagne teamed up with Usman Khawaja in a 96-run partnership for the second wicket to ensure Australia took a first-innings lead.
It wasn't Jadeja's first error on tour – the 34-year-old bowled Steve Smith during the second innings of the series opener in Nagpur, only for the dismissal to be nullified due to a no-ball.
Jadeja eventually got his man on Wednesday, bowling Labuschagne for 30 with an arm ball that hit the pegs, but the damage was already done.
The left armer finished the day with impressive figures of 4-63 from 24 overs, but India were in a much better position to launch a comeback if he controlled his paces in the delivery.